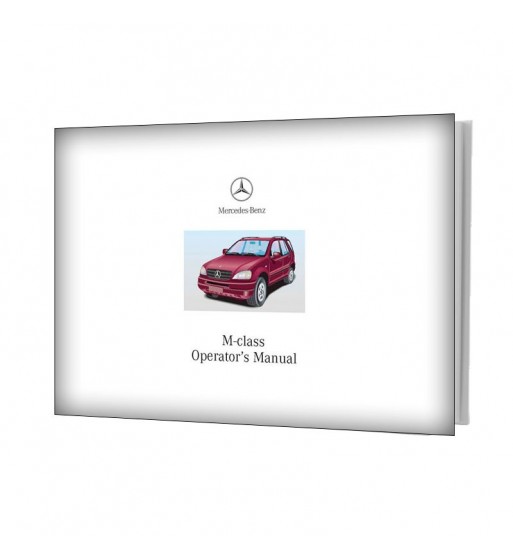  
Mercedes Benz Operator's Manual M-Class W163
Owner's manual of Mercedes Benz M-Class, W163 Series including ML 320, ML 430 and ML 55 AMG models.
Digital version in English language and PDF format, with identical content to the original and the advantage of accessing its immediate download. It includes a general introduction, details of controls, operation and driving of the vehicle, description of the instrument panel display, practical advice, care and technical data.
Mercedes Benz Operator's Manual M-Class W163.
The Mercedes-Benz M-Class W163 Series is a luxurious mid-size SUV produced since 1997.
Currently it is difficult to find the user manual edited on paper that was originally delivered to each owner, for that reason we offer a digital version in PDF format that allows it to be read from the screen of your personal computer, tablet or smartphone and the printing of its pages.
Models included in this manual of the Mercedes Benz M-Class W163 Series:
Mercedes Benz ML 320, ML 430 and ML 55 AMG with M112 E32, M113 E43 and M113 E55 gasoline engines respectively.
Description of content:
Introduction
Instruments and controls
Operation
Driving
Instrument cluster display
Practical hints
Vehicle care
Technical data
Index
Item features:
Format: PDF
Language: English
Pages: 317
File size: 10.4 MB
Shipping method: Download link
No customer reviews for the moment.