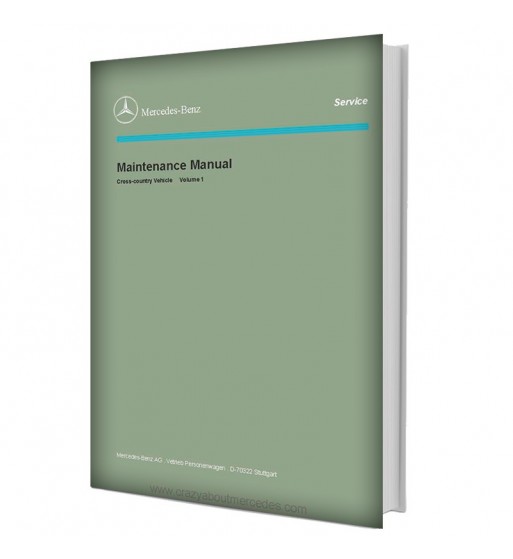  
Mercedes Benz Maintenance Manual Cross-country Vehicle | Volume 1 (Supplement 6)
Workshop manual that contains the modifications and revisions made in the technical data due to the inclusion of the new Mercedes Benz Series W461 and W463 models, also called G-Class, in PDF format.
Mercedes Benz Maintenance Manual Cross-country Vehicle | Volume 1 (Supplement 6).
Mercedes Benz manual (supplement) containing the modifications and revisions to the technical data due to the inclusion of new models W461 and W463 Series, also known as G-Class.
Designed primarily for use by trained officers personal branding workshops, develops 301 pages in English that describe the repair work and parts replacement procedures. It contains precise information useful both for amateurs who need maintenance work, seasoned mechanical or DIY experts of classic cars, recounting in detail the processes involved in individual steps with the help of pictures, diagrams and tables.
Mercedes Benz Models included in this manual:
W461 Series: 230 GE y 290 GD.
W463 Series: GD 350 Turbo y 500 GE
Brief description of contents:
General works items. Engine, crankcase, cylinder head. Engine timing, valves. Diesel fuel injection system. Air cleaner, exhaust gas turbo charger, intake air preheater. Air compressor, belt drives. Intake manifold, exhaust manifold, engine brake, emission control system. Electrical system: engine (starter, alternator). Engine cooling, coolant hoses, radiator. Engine mounting. Clutch. Manual transmission, power take-offs. Automatic transmission. Transfer case. Pedals. Throttle control. Frame. Suspension. Front axle, leading axle. Rear axle, trailing axle. Wheels, running gear alignment. Propeller shaft. Brakes, hydraulic and mechanical systems. Steering. Fuel system. Exhaust system. Electrical system, equipment and instruments, cruise control systems. Body, general. Doors. Sliding roof, soft top, attachments. Electrical system: body, radio, windshield washer system, headlamp range adjustment. Climate control. Detachable moldings, external flaps. Seats, berths, restraint systems. Paintwork.
For maintenance of Mercedes Benz G-Class Series W461 and W463 will not find another best workshop manual.
Now with a bookmark index that allows navigation through the different chapters, this new digital version was available in PDF format is identical in content to the paper originally published in the advantage of instant download access. Supports reading from the monitor of a personal computer, tablet or smartphone and printing of pages that are necessary. Article illustrations allow to obtain a notion of the quantity and quality of the information.
Characteristics:
Format: PDF archive
Language: English
File size: 19.7 MB
Shipping method: Download link
Pages: 300