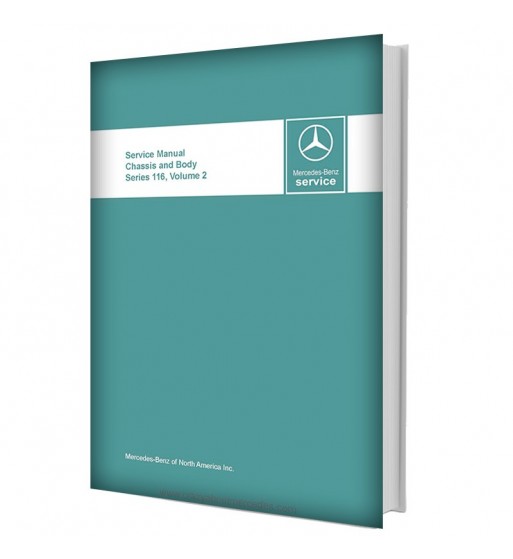  
Mercedes Benz Service Manual Chassis & Body Series 116 | Volume 2
Second volume of the workshop manual for chassis and body of Mercedes Benz W116 Series cars, in PDF format.
This manual is useful for performing repair, maintenance and parts replacement tasks on all Mercedes Benz W116 Series models.
Mercedes Benz Service Manual Chassis & Body Series 116, Volume 2.
Second volume of the workshop manual for chassis and bodywork of the Mercedes Benz W116 Series models
Conceived basically to be used by the trained personnel of the official workshops of the brand, it is developed in 278 pages in English that describe the repair tasks and the parts replacement procedures. It contains precise indications of utility both for those amateurs who need to perform maintenance work, experienced mechanics or experts in DIY of classic cars, reporting in detail the necessary processes in individual stages with the help of images, diagrams and tables that provides detailed information on the following topics:
Electrical equipment and instruments. Glass and windows. Interior equipment. Doors. Trunk lid and outside flaps. Sliding roof. Central locking system. Electrical system of body. Detachable body components. Seats and seat belts.
Models W116 Series included in this manual:
280 S and 280 SE
450 SE, 450 SEL and 450 SEL 6.9
300 SD
Other models W116 Series:
280 SEL
350 SE and 350 SEL
Workshop manual indicated for chassis and body repair and maintenance Works on Mercedes Benz W116 Series models.
Now with a bookmark index that allows navigation through the different chapters, this new digital version was available in PDF format is identical in content to the paper originally published in the advantage of instant download access. Supports reading from the monitor of a personal computer, tablet or smartphone and printing of pages that are necessary. Article illustrations allow to obtain a notion of the quantity and quality of the information.
Product Features:
Format: PDF
Language: English
Pages: 278
File size: 24.4 MB
Shipping Method: Download Link