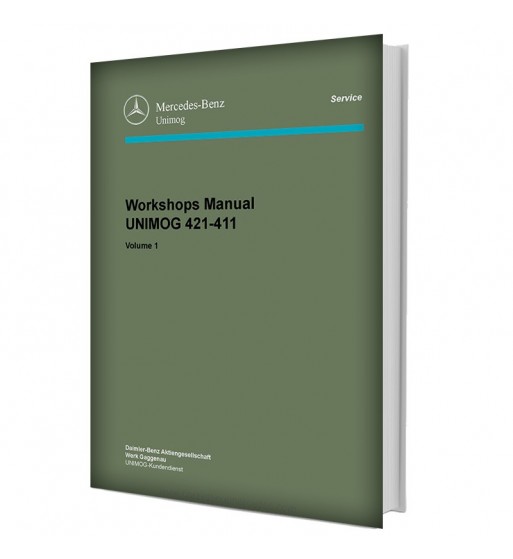  
Mercedes Benz Workshops Manual UNIMOG 421-411 | Volume 1
Service introduction manual for technical personnel in charge of repair and maintenance of Mercedes Benz UNIMOG U421 and U411 Series vehicles, in PDF format.
Mercedes Benz Workshop Manual | UNIMOG 421-411 | Volume 1.
Manual introductory service for technical personnel responsible for the repair and maintenance of Mercedes Benz UNIMOG U422 and U411 Series.
Designed primarily for use by trained officers personal branding workshops, develops 275 pages in English that describe the repair work and parts replacement procedures. It contains precise information useful both for amateurs who need maintenance work, seasoned mechanical or DIY experts of classic cars, recounting in detail the processes involved in individual steps with the help of pictures, diagrams and tables that provides detailed information on the following topics:
General. Electrical equipment. Cooling units at engine. Brake (hydraulic). Compressed air system. Electrical installation. Installed special requested equipments. Electrical system.
IMPORTANT: This manual is composed of the collection of topics that are described. Unfortunately we do not have the original manual to make a comparison and it is possible that there are differences.
Mercedes Benz UNIMOG models included in this manual:
U421 and U 411 Series.
For maintenance of Mercedes Benz UNIMOG Series U421 and U411 will not find another best workshop manual.
Now with a bookmark index that allows navigation through the different chapters, this new digital version was available in PDF format is identical in content to the paper originally published in the advantage of instant download access. Supports reading from the monitor of a personal computer, tablet or smartphone and printing of pages that are necessary. Article illustrations allow to obtain a notion of the quantity and quality of the information.
Product features:
Format: PDF
Language: English
Pages: 275
File size: 36.3 MB
Shipping Method: Download Link